Wednesday night I went to Ann Arbor for a VNV Nation show! It was an excellent concert. Thank you so much to Ronan, Mark, Mike, and Jeff for flying out from Cali just for this one show! It was great. It was very last minute, and was not part of the original tour plan, and there was therefore no opening act. It was a very different kind of show, held in a smallish club rather than a more traditional concert venue - in fact it was the first time there's been a concert at the Necto in 20 years! Jinx, the DJ and promoter for Necto Factory Mondays, did an amazing job putting the show together - mad props! What a great time!
hat: Spirit Halloween
bolero, socks: offbrand
blouse: Angelic Pretty
skirt, cage skirt, hairbows: Kinki Kitty
shoes: Demonia
I've also been very lax about posting my coordinates here, so here are four more from last weekend!
From Thursday, March 11, a D:Konstruct show in Hamtramck!
hairbow: Heart E
blouse: Metamorphose
skirt: Innocent World
socks: Angelic Pretty
shoes: Demonia
necklace: my mother
From Friday, March 12
blouse, jsk: Angelic Pretty
socks: Alice and the Pirates
boots: Antenna
hairbow: Metamorphose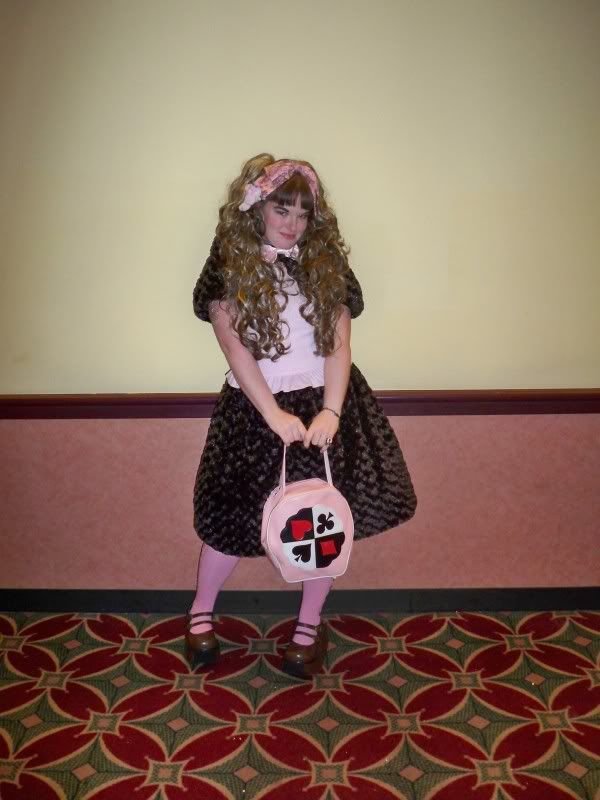 From Saturday, March 13 - Detroit lolita Alice in Wonderland meetup! I want to make a post with all the lovely outfits from this night, but I don't have photos yet, so that will come later!
bunny cape & skirt, hairbow: Kinki Kitty/handmade
cutsew: Baby
socks: offbrand
shoes: Antenna
From Sunday, March 14, Irish dinner with my family.
dress, necklace, bracelet, socks: Innocent World
shoes: Antenna
headdress: handmade crocheted by the talented and lovely livejournal user apika ♥♥